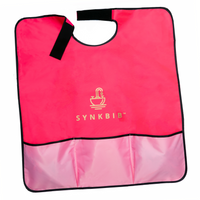 DESIGNED WITH YOU IN MIND.
Annoyed by hair collecting in your sink when you style your hair?
Don't have enough space for your go-to tools and products when doing your hair or makeup?
Looking for an instant counter to spread out all your supplies?
SYNKBIB™ is designed with you in mind. Our patented design keeps hair and products out of your sink and makeup from ruining your counters!
BUY NOW!
BENEFITS
✔️ Keep hair out of your bathroom sink!
✔️ Light-weight, waterproof material!
✔️ Fire-retardant material!
✔️ Easy to clean, store and travel!
✔️ Holds and organizes extra styling tools!
Buy Now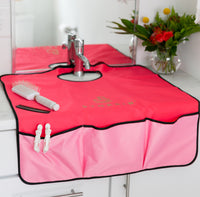 Reviews & testimonials
Amazing design and color is super cute and fun, would highly recommend for when doing make-up as well.

Dorene
Stunning and quality material. It's light and love the water proof material. Makes it really easy to clean.

Bella
Bought this for my wife, and she really loves it. It gets the job done, as stated.

Matthew S.